When you are pregnant, everything goes out of place. You may feel nauseous all the time. You may have more breakouts on your skin, especially your face. You may get easily lethargic and feel like snoozing in your bed the whole day! Plus, you may feel this tingling sensation of your breasts and some of you might feel like a pinching sensation behind the nipples. Your "girls" (breasts) will feel sore, heavy and tender. Read on to know more on what amazing changes are happening to your breasts during your pregnancy.
What are the breast changes?
There are a number of breasts changes during pregnancy that you should expect. These include:
Growth, enlargement and weighty throughout the pregnancy. The weight of your breasts alone may reach up to 2 pounds!
Tenderness and hypersensitivity occur at the sixth week of pregnancy due to the hormonal changes that are preparing your breasts for lactation. The milk ducts are growing and being stretched as they store up milk early in pregnancy. All this causes your breasts to be more sensitive, particularly your nipples.
Darkening of nipples and areolas(the skin around your nipples) occur by 8 weeks of pregnancy — hormones like estrogen, progesterone and melanocyte stimulating hormone cause the pigmentation of the skin.
Your breasts may start leaking a yellowish, thick substance known as colostrum(otherwise known as pre-milk) by 16 weeks (second trimester) of pregnancy. Colostrum is a sweet and watery fluid that is easy to digest. It may appear thick and yellow at first, and as labour approaches, it becomes pale and almost colour less. Colostrum is very nutritious and will provide your baby with adequate calories and immunity in the first couple of days.
Nipples stick out more, and the areolas and nipples will grow larger
Small glands on the surface of the areolas called Montgomery's tubercles become raised bumps. These glands secretes oil that helps to lubricate areola and nipple and act as a moisturiser to prevent cracking of nipple during breast feeding.
The veins already in your breasts become more visible as they expand to traffic more blood flow. This is because your blood volume increases 20 to 40 percent during pregnancy.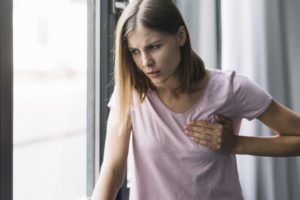 Why do these happen?
These changes are caused by the production of hormones during pregnancy, and you may experience some effects more or less than others. The timeline given is just a guide to give you idea of what's going to happen throughout your pregnancy.
For example, the breasts discharge may occur at any time, when your breasts are massaged and you are sexually stimulated. There is no need to be alarmed when this happens and there is no need to worry if it does not happen. Women who do not experience colostrum discharge in pregnancy still produce milk for their baby. The amount of colostrum produced does not indicate how much milk you will produce during breastfeeding.
Tips to ease yourself
These are helpful suggestions to help you adapt with these changes more comfortably:
buy a good, supportive bra to handle the growth and enlargement of the breasts. Bras with deep band beneath the cups and wide shoulder straps will do the trick. If your breast size increases drastically, you may want to sleep in a cotton sports bra at night. Avoid underwired bras as they can be uncomfortable.
Use breast pads that are inserted inside your bra to absorb any fluid, such as leaking colostrum and prevent wet patches showing through your outer Change the pad frequently to keep you comfortable and prevent odour.
Should I be worried about breast cancer?
Contracting breast cancer while you're pregnant is not common. It happens in 0.001% to 0.0001% pregnancies. Being pregnant doesn't cause breast cancer but if you already have the cancer cells or genetics, the hormonal changes can cause the cancer cells to grow.
It is advisable to continue doing self-breast exams during pregnancy. Unfortunately, it is more challenging to do so during pregnancy because of all the physical changes your breasts are going through (i.e. growing in size, tenderness, or even lumpiness). However, it is still significant for you to examine your breasts for any suspicious lumps every 4 to 5 weeks.
The most common lumps found among women during pregnancy are clogged milk ducts. These are red, tender to touch, hard lumps found in your breast. Home remedies like warm compresses and light massages will probably clear the duct in a few days. Nevertheless, if you are unsure of any new lumps, do consult your attending doctor.