What can I wear to the office?
Congratulations on being pregnant! A question you may be asking yourself every morning when you wake up is what can you possibly wear to the office, right? What you need are tips for dressing while pregnant, that are also work-presentable at the same time. No one said that you can't look completely stunning with the addition of a beautiful baby bump in the front, as what you'll just have to make minor adjustments to your wardrobe – and who knows, you might actually love it.
Simplicity is Key
Dark colours such as black, navy blue, charcoal grey and brown are known to create the optical illusion of someone seeming slimmer than they are, and this could work for pregnant women. Dark coloured clothes are always in fashion and are the easiest to be paired with other outfits. If you are feeling a little more colourful, add on a nice coloured shawl or even some light accessories instead of dressing in loud-coloured clothes and those with patterns, which would attract more-than-wanted attention to your belly. When it comes to socks, a monochromatic look would be great, so put on those that colour matches your skirt or dress.
It is understandable that baggy attires would be your initial go-to, as to not show too much of your belly – in concern that it may cause you to appear unflattering. Time to change perception, by going for those close-to-skin clothes (not tight to a point you can't breathe, cause it is also dangerous for the baby) that would accentuate your beautiful figure – perhaps a tapered skirt made out of stretch wool, for that high-fashion office look, or even a fitting pair of denim jeans with a boot cut bottom.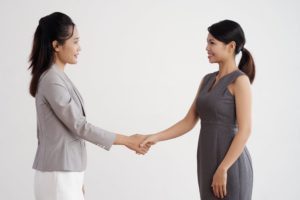 Covering up in style
There may be some women who aren't into fully exposing their baby bump to the world, so why not add an extra layer that doesn't only help you cover up a little, but to also give you a more empowering appeal. Wear a well-fitting blazer – unbuttoning it whenever you feel that it is too tight around the belly, or just unbuttoning it fully, which would give you that slightly cooler-casual vibe. A tip would be to get those that are made from cotton or lycra as these are much easier to have cleaned.
When it comes to shoes, flats are thought to be the best choice – safe and fully grounded. Should you feel like exuding a more "Devil Wears Prada" style by strutting in heels, just find ones that are slightly lower in height but chunkier at the heel, just so you have more stability and wouldn't cry after walking in it for an hour.
Now you're ready to Dress to Impress and still enjoy the gift of being a mother soon. Keep it simple and comfortable, you'll get just the right amount of attention for it.